Carson Pass
Highway 88 / Carson Pass information
Currently at the Pass
Updated May 27, 2023
The snow is melting but the station is still buried. We do not know the opening date for certain, but it will be posted as soon as possible. SNO-Park is partially cleared and the bathrooms are open. Make sure you have a SNO-Park pass before you head up. SNO-Park will be enforced until May 30 so make sure you have a permit.
What to Expect for the 2023 Recreation Season on the Eldorado National Forest
Want to know what is open for Memorial Day and the Summer? The Forest Service has just released their report on the status and prediction of recreational sites through out the forest. To view the document click here.
Season runs from Nov. 1 through May 30. Make sure you get one before you head to the mountains. You can easily get a day or seasonal SNO-Park permit by clicking here. They are not available at the SNO-Park.
Morman Emigrant Trail is closed and is expected to be cleared up to Silver Fork Rd. by Memorial Day. It will not be open to Highway 88 until late June.
Carson Pass Station is now closed. All wilderness permits will be available through the Forest Service by calling (209)283-1341 on the Monday prior to your planned trip. This is a Google voicemail phone number, and you are requested to leave your contact information (phone number and email), desired dates and locations of your trip. The Forest Service will then respond to your call via email with your permit attached. This is the only way to get a permit when the station is closed.
Seasonal dirt road closure has been extended to April 30. For more information please click here: Seasonal Dirt Road Closure Extended through April 30 on the Eldorado National Forest.
Important update on the reopening of the forest in areas burned during the Caldor Fire. For more information, please click here:
Most of the Caldor Fire Area reopens April 1 but extra caution is needed
Mormon Emigrant Trail is closed.
To obtain an idea of trail conditions, you may find it helpful to go to our Facebook page, which contains reports, pictures and recent accounts from people up at the pass. Simply click on the Facebook symbol at the bottom of the page.
More information is available by going to the Eldorado National Forest website by clicking here.
HWY 88/Carson Pass
An all-season roadway, Highway 88, the Carson Pass Highway, enters the Eldorado National Forest 64 miles east of Stockton near the Dew Drop Fire Station at the 4300 foot elevation and continues through the forest for 38 miles until in reaches Carson Pass at the 8573 foot elevation. From there, it descends into Nevada near Woodfords. Much of the highway parallels the northern ridge above the Mokelumne River canyon, then follows the Carson River Route of the Emigrant Trail. Several historic sites can be accessed on a driving tour described in Gold Rush Trail, a guide by Frank Tortorich.
With a elevation change of over 4000 feet, from west to east, the forest changes from foothill woodland, chaparral, and mixed conifer to the true fir, and subalpine forests of the Carson Pass area. Over eighteen developed campgrounds, both public and private, are accessible from the highway, as well as miles of fishable streams and rivers, and major and minor lakes and reservoirs affording the visitor many recreational opportunities.
At the summit, the Carson Pass Information Station offers visitors a chance to stop, stretch their legs, and learn more about the area. Wilderness Permits, Campfire Permits, and campsite reservations for the Carson Pass Management Area are all available at the stations along with maps, books, and more. The station is open everyday from Memorial Day to Labor Day. Stop in!
Whatever the season, the Carson Pass Highway is open for fun.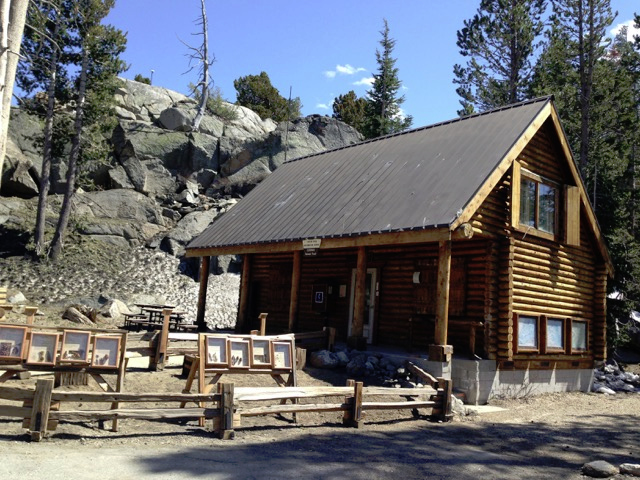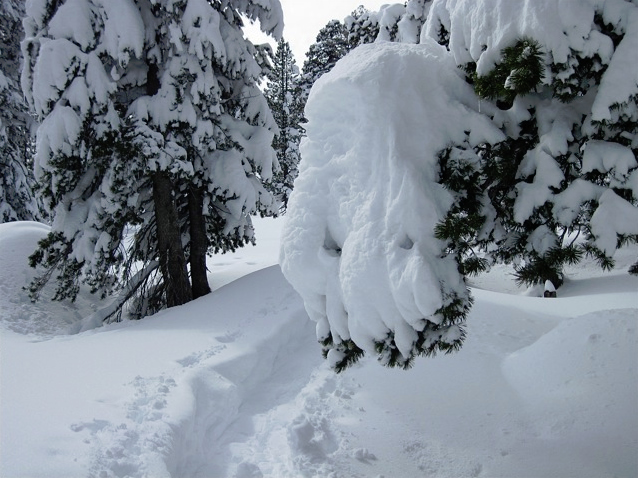 Carson Pass Winter Fun
SNO-PARKS
Sno-Parks in the Carson Pass area are located at the Meiss Trailhead, the Carson Pass Information Station, Iron Mountain, and Hope Valley. They are open November 1-May 30. A Sno-Park permit is required. For more information on Sno-Parks and to purchase a permit online, click here. Permits may also be purchased from some local retailers. However, permits are not available for purchase at the Sno-Park.
The cost is $25.00 per season or $5.00 a day.
The Sno-Park hotline is (916) 324-1222.
BACKCOUNTRY SKIING AND SNOWSHOEING AT CARSON PASS
Located at the crest of Carson Pass on Highway 88, the Carson Pass Information Station is a great place to start your adventure. The Station is closed in the winter, but several trails start from the Sno-Park lot next to the station where restrooms are also available. Follow the trail leaving the parking lot just to the side of the Information Station, which traverses through a beautiful primitive forest to Frog Lake at one mile. Continuing on the trail will bring you to Winnemmuca Lake, Round Top Mountain, and Elephants Back. You will be in a wilderness area. There are no blue diamonds on the trees to mark the trail, so you will be responsible for your navigation.
If you go west of the station a few hundred yards, you will find another Sno-Park area for the Meiss Meadow trailhead. You won't be disappointed with the magnificent views of Meiss Meadow and Lake Tahoe.
ICE FISHING
In the Carson Pass area, ice fishing is available at Silver Lake, Caples Lake, Red Lake, and Woods Lake. A variety of trout including Mackinaw, Brown, Brook, and Rainbow are available. Many of these hungry fish can weigh from five pounds to an excess of twenty for the Mackinaw. Ice conditions can change rapidly, so caution is advised.
KIRKWOOD SKI AREA – DOWNHILL AND CROSSCOUNTRY SKIING AND SNOWSHOEING
Kirkwood is recognized as one of the top ski resorts in the country, offering 15 lifts, 2 high-speed quads, 65 runs, and 2,000 skiable acres. This advanced mountain is known for its steep chutes and impressive cornice skiing. There are also groomed trails for the intermediate and beginning skier. Lessons, rentals, and lodging are available. Located just 33 miles southwest of Lake Tahoe, about 100 miles from Stockton, and 177 miles from the Bay Area, Kirkwood very accessible.
For weather, road conditions, rentals, and lodging information, call (800) 967-7500 or visit
www.kirkwood.com
The cross-country ski and snowshoe center is located on Hwy 88 one quarter mile east of the Kirkwood turnoff and next to the Kirkwood Inn. If you enjoy being surrounded by wilderness trails and you enjoy cross-country skiing and snowshoeing, then give the Cross-Country Ski and Snowshoe Center a try. Located at 7,800 feet and soaring to over 9,000 feet, with 80 km of groomed skating and snowshoe trails, two of which are dog friendly, the diverse terrain provides excellent skiing for all abilities. Traverse around lava cliffs and wilderness trails, or meander down to Caples Creek and visit beaver dams and open meadows. Trail passes, rentals, lessons, tours, and retail services are available at the Cross-Country Center, (209) 258-7248. Trail passes and rentals are also available at Red Cliffs Lodge at Kirkwood.
SNOW CAMPING
Snow camping can be a challenging and very rewarding experience. If you are camping in the Carson Pass Management Area you must have a minimum of twelve inches of snow on the ground. Camping within the management area is only allowed at designated sites at Winnemmuca Lake, Frog Lake, Round Top Lake, and 4th of July Lake. Open fires are not allowed above 8,000 feet, so plan to use your camp stove. A wilderness permit and
campfire permit
are required and can be obtained from the Amador Ranger Station on Silver Drive in Pioneer.
Dispersed camping is allowed on the north side of Highway 88 in the Meiss Meadow area. This area is dog friendly, and no wilderness permit is required. A fire permit is required, however.
SNOWMOBILING
Snowmobiling is not allowed in the Carson Pass Management Area or Meiss Meadow area, but close by good areas for snowmobiling are Iron Mountain at the junction of Mormon-Emigrant Trail Road and Highway 88, and Hope Valley just east of the pass. Each has a Sno-Park staging area, miles of groomed and ungroomed trails, and acres of open country. Silver Bear Snowmobiling Trails begin at the Iron Mountain Sno-Park about 25 miles east of Jackson. Hope Valley Snowmobiling Trails launch from the Hope Valley Sno-Park on the east side of the pass.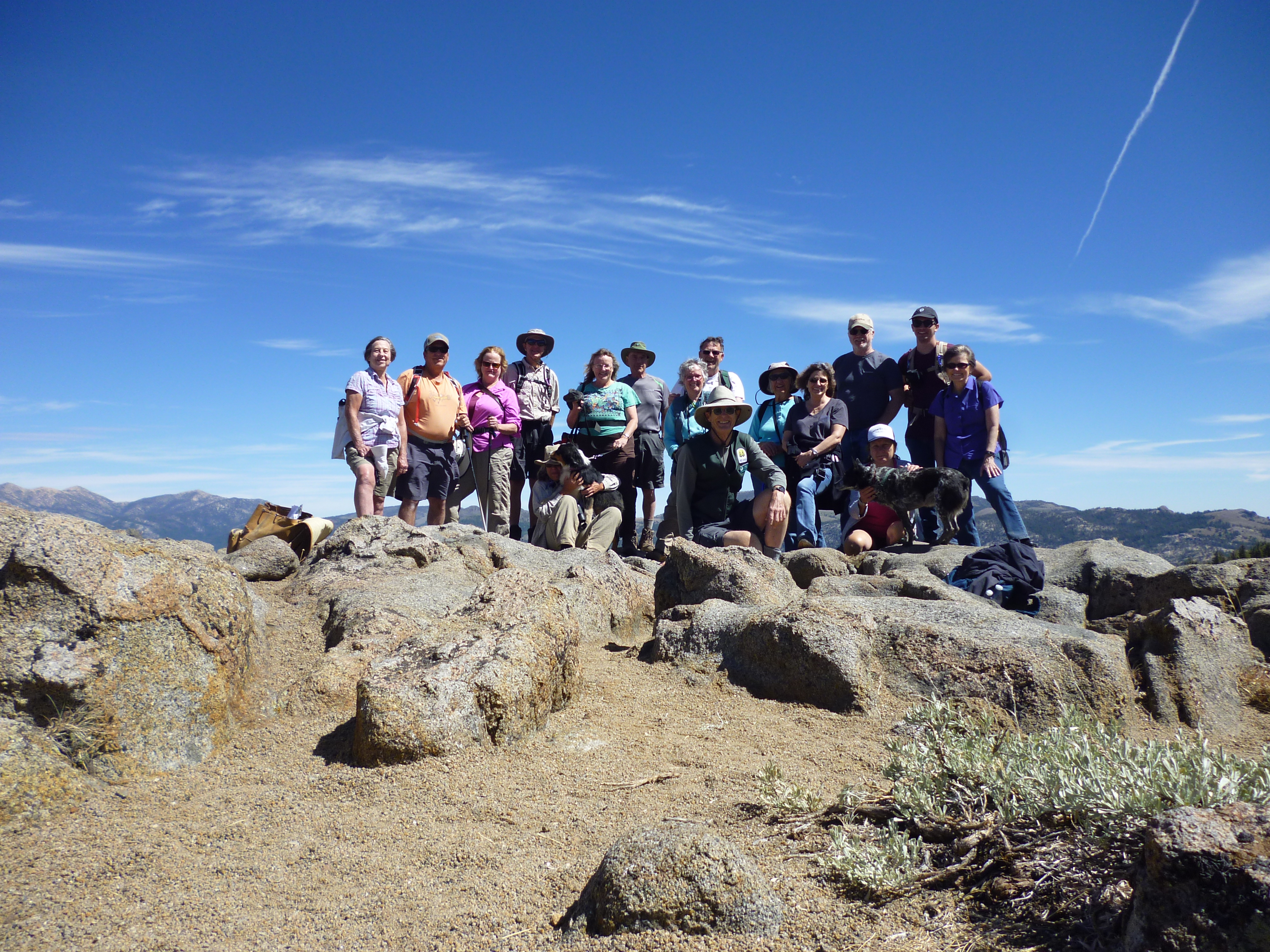 Carson Pass in the Summer
 The Carson Pass area offers one of the most beautiful and scenic areas in the High Sierra. Carson Pass Special Management Area is set aside from the rest of the Mokelumne Wilderness for two distinct areas. First, the Round Top Geologic Area, which has extinct volcanoes. Its glacially sculptured land is evident as one walks the 10 miles of trails in the area. Dramatic changes in the landscape are still occurring after two hundred million years.
Second is the Round Top Botanical Area. Wildflowers have been blooming each summer for the past ten to twelve thousand years. Different soil types and elevation changes will produce wide variety of lush and beautiful wildflowers. The peak season can vary from mid-July to the first week or two in August depending on the previous winters snow pack. For wildflower information you can call the Carson Pass Station at 209-258-8606.
Many activities are available in the area. To get some ideas check out the Things to Do under the Discover drop-down menu.The area of Carson Pass is rich in history as well as having great outdoor activities. Feel free to take advantage of the Docent led interpretive hikes that occur throughout the season. Check out the schedule under the Upcoming Events Calendar on the Home page, or head to our Carson Pass Facebook page. 
The Pacific Crest Trail (PCT) runs right past the station. When you visit, look for the PCT hikers, who will have many interesting stories from their adventures along the trail. If you speak another language, you may even be able to practice it, as many hikers have come from other countries to experience the unique adventure of hiking from Mexico to Canada along the PCT.
Headed for the wilderness for camping? You can obtain your wilderness and campfire (stove) permits at the Station. Need a place to camp and the campgrounds are full? The helpful Docents at the station will direct you to areas where dispersed camping is allowed.
A couple of important items. Remember to bring $5 for the user fee collected at the parking lots at the pass and many of the other parking lots in the area. This fee goes toward maintaining trails and the area for your use. Also, please have your dogs leashed for their safety and the safety of our wildlife. Loaner leashes are available for free from the Carson Pass Station.
Have a wonderful experience in one of the most beautiful areas of the Sierra Nevada.
Wildflowers 101
The wildflower season is over for this year! However, to be ready for next year, here is a help to learning those wildflowers.
Trying to locate wildflowers in a field guide and learn their names can be a pretty daunting undertaking. To help you begin learning them, Wildflowers 101 has 10 of the most common wildflowers in the higher elevations. Print this off and take it with you when you do your wildflower hikes. After you find these and learn their names, you will be ready for Wildflowers 102 (to follow at a later date), which will have 10 more flowers to find. This way you will start to grow your wildflower knowledge in an easy stepwise manner. This is also a great tool to hand to the younger hikers to turn their trek outside into a treasure hunt. Have a great time enjoying natures bounty of beautiful flowers. Just please remember, don't pick them- leave them for others to enjoy.
To get your printable Wildflowers 101, please click here.