Hiking
Explore the Forest
Hiking
With over 350 miles of trails, there is a hike for everyone–from short easy walks to extensive backpacking trips. Most trails are accessed from one of the two highways crossing the forest. To the north, Highway 50 follows the American River. Along this corridor many hiking opportunities are found in the Georgetown, Crystal Basin, and Wrights Lake Areas as well as the Desolation Wilderness. To the south, Highway 88 provides access to Bear River, the Morman Emigrant Trail, the Silver Lake, Kirkwood, and Carson Pass Areas and the Molelumne Wilderness.
Trails along the Highway 50 Corridor
Trails along the Highway 88 Corridor
Before adventuring out spend some time preparing to ensure a safe and fun trip. When planning a trip, check with Forest Service information centers or ranger station for updates and information.  Use maps, stay on the trails and be prepared for changeable weather and other emergencies.
Familiarize yourself with the trail you plan to hike.  Be sure to always let someone know where you are going and when you plan to be back.
Check the weather. What's the forecasted temperature? Might you need a coat? raingear? 
Hike Safely
Avoid hiking alone.
Carry enough water – 1-2 liters per person.  More if it is hot!
Bring snacks and/or lunch.  Keep yourself fueled to perform your best.
Be aware of heat , sun, and potential changes in weather.  Wear layered clothing, use sunscreen, hats and sunglasses.
Wear proper footwear.  Your footwear is your most important equipment when you hike.  
Carry a first-aid kit for unexpected emergencies.
Toilet paper and a plastic bag for when nature calls.
Keep track of time.  Know what time sunset is and plan on being back to your car at least an hour before sunset. Having a headlamp or flashlight is important if you are are later than you planned.

Many popular trails have become overused and show damage to vegetation and wildlife habitats. Help maintain them for future generations of hikers.
"Know before you go."  Learn everything you can about the area you plan to visit and the regulations for its use.
Travel and camp on durable surfaces
Use established campsites and trails where available.  Avoid sites just beginning to show impacts.  Keep camps small and at least 200 yards from water, occupied camps, and trails.
Dispose of waste properly
"Pack it in, pack it out!"  Bury human waste in a cathole 6-8 inches deep and at least 200 feet from water.  Wash yourself and dishes at least 200 feet from water.
Leave natural objects or cultural artifacts for others to enjoy.  Don't build structures, dig trenches or alter natural features.
Minimize use and impacts of fire
Use a lightweight stove, instead of a fire.  If you build a fire,use only small dead wood found on the ground and use exisiting fire rings.  Check fire regulations and restrictions for the area before you go.
Watch wildlife from a distance and never approach, feed or follow it.  Seal food tightly and store it out of reach.  Control pets at all   times or consider leaving them at home.
Be considerate of other visitors
Preserve the natural quiet.  When you meet horses on the trail, step off the downhill side and speak softly as they pass.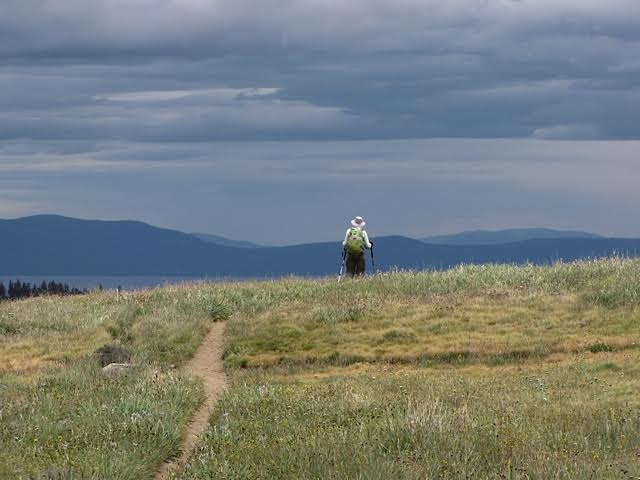 Regulations
The Eldorado National Forest is open to hikers, bikers, equestrians, and motorized vehicles..Portions of the forest, including Wilderness areas are closed to any motorized vehicles. This includes any form of electric bike. There are sections of the Eldorado where bikes (including all variations e.g. unicycles) are not allowed. For information on these regulations check the Non-Motorized Trails listing. If you are unsure check with a Forest Service office before you go or visit the Eldorado Forest website.
Trail users must camp within 300 feet of the trail corridor and at least 200 feet from water sources.
Human waste must be disposed of 200 feet or more from campsites, water sources, and trails. Dig a hole 6 to 8 inches deep to bury human waste. Toilet paper should be packed out!
Leaving refuse, debris or litter is not permitted. Pack it in and pack it out.
Washing with soap in water sources is not permitted as insect repellents, suncreens and soaps all contaminate water sources. Rinse off these contaminants before swimming. Wash dishes and gear well away from water sources. Even biodegradable soaps should be utilized and rinsed off away from water sources!
For both day users and overnight visitors, the maximum group size in wilderness areas of the trail is 12.
Damaging or removing natural features is not allowed. Leave beautiful wildflowers, giant pine cones, and cool rocks for future trail users to enjoy.
No camping is allowed at trailheads.
Permits
To hike in the Eldorado National Forest –
a Campfire Permit if you will be using a stove or will have a open fire
a Desolation Wilderness Permit (only if you will be traveling through Desolation Wilderness)
To camp in the Eldorado National Forest –
a Campfire Permit if you will be using a stove or will have a open fire
a Desolation Wilderness Permit (only if you will be traveling through Desolation Wilderness).
a Mokelumne Wilderness Permit (only if you will be traveling through Mokelumne Wilderness).
Campfire Permits
If you are planning to use a campstove or have an open flame, you will need to obtain a California Campfire Permit. NOTE: The use of open fires (campfires) in the Desolation or Mokelumne Wilderness is strictly prohibited at all times.
Campfire Permits are required, "for any individuals planning to use an open fire (such as a campfire), barbecue or portable stove on federally controlled lands and private lands that are the property of another person". You can obtain your California Campfire Permit at any ranger stations, the Forest Service Supervisor's Office, Carson Pass Information Station or online for FREE. Visit www.preventwildfireca.org to watch a video on campfire safety and complete a short quiz before printing your permit. Permits expire on the last day of the year in which they are issued. Please remember to Leave No Trace, and minimize campfire impacts.
Once you've obtained your permit, it is still your responsibility to check with the Forest Service on seasonal fire restrictions. Fire restrictions may be put into effect when there is a heightened risk of forest fire due to significantly low snowfall/rainfall rates in the preceding season. For questions about seasonal fire restrictions, please call the Forest Service Supervisor's Office at (530) 543-2694, Monday – Friday, 8 AM – 4:30 PM.

Desolation Wilderness Permit
For those of you interested in traveling through Desolation Wilderness, be aware of the current permitting process.
Day Hikers – If you are just going out for a short (or long) day hike, and you will enter into Desolation Wilderness, you need to carry a Day Hike Permit. These are FREE permits, and can be picked up at each of the following trailheads: Echo Lakes, Glen Alpine, Mt. Tallac, Bayview, Eagle Falls and Meeks Bay. You will have to fill out the permit at the trailhead, tear the bottom section off and drop in the permit box, and carry the rest of the permit with you during your hike.
Overnight Campers – For those looking to do an overnight (or multiple day) backpacking trip through Desolation Wilderness, you will need an Overnight Camping Permit . We recommend that you get your overnight permit as soon as possible. They are very popular and can go quickly for certain times of the year (summer, holidays and weekends) and in certain camping zones. You can reserve your permit online at www.recreation.gov. Once reserved, you will be able to print your permit within 14 days of the beginning of your trip. NOTE: A quota system is in place for overnight camping in Desolation Wilderness. 70% of overnight camping permits are reservable beforehand, while 30% are available on a first come, first served basis.
Mokelumne Wilderness Permit
Day Hikers – If you are just going out for a short (or long) day hike, no permit is needed.
Overnight Campers – For those looking to do an overnight (or multiple day) backpacking trip, an Overnight Camping Permit is needed. For camping within the Carson Pass Management Area Lakes Winnemucca, Round Top or Fourth of July, this permit can be obtained at the Carson Pass Information Station during the summer months (June-September) and at the Amador Ranger Station in Pioneer the remainder of the year. Campsites cannot be reserved and are on a first-come basis. For all other areas of the Mokelumne Wilderness, permits are availalbe at the Amador Station and Carson Pass Information Station..